October 08, 2011 - Back in the early 2000's, I became friends with the artist Gidget Gein. He was most well known as co-founder and bassist of the group Marilyn Manson, but during the time I knew him, he was establishing himself as a talented visual artist creating a unique world of surrealist/exploitation/pop art. 
In 2004, Gidget came up with the concept for a fashion line called USE ONCE AND DESTROY COUTURE and organized a huge art opening/fashion show to commemorate its launch. He asked me if I would provide a "soundtrack" for the event to which I enthusiastically agreed. I surprised him with 8 original pieces of music which would serve as the backdrop to the wondrous parade of miscreants who strutted down the make-believe catwalk. A limited-edition CD entitled, "Music for Gidget Gein's Gollywood" was sold exclusively at this show. 
After this event, we would talk on and off over the years and in 2006 Gidget expressing interest in working with me on some original music. I invited him to my studio where we decided to simply hit record on the tape recorder, and see what we'd come up with. He played bass. I played guitar, and I invited my friend Rey Perez (Ebola Music Orchestra/Anti-Art Brigade) to join us on drums. We had a lot of fun; the collaboration felt effortless and it yielded a few interesting ideas that we both felt we could expand on eventually. 
We agreed to revisit these things after we both became less busy. Unfortunately (and thankfully), we both became busier with other creative projects which didn't allow us the time to get together again. 
On October 9, 2008 (3 years ago today) I learned that Gidget Gein had died of a Heroin overdose the night before. 
In memory of my old friend, and in the spirit of exploitation which I am sure he would appreciate,  I am re-releasing my original Gollywood Soundtracks, as well as 4 never-before-heard tracks featuring myself and Gidget Gein in the aforementioned jam session which we never revisited. They are available today at any of your favorite online digital retail outlets.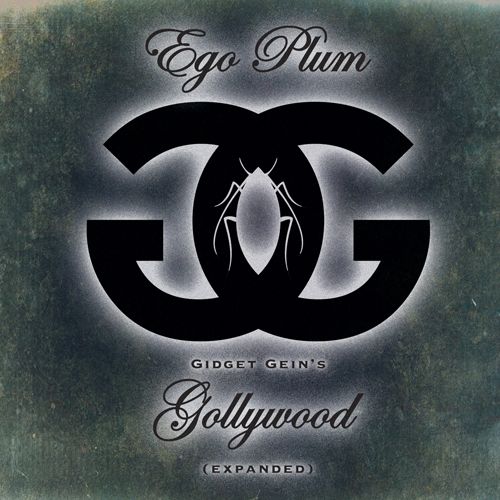 Track Listing: 
Gollywood 
Manson Theme 
Hate Theme 
Ani Malo 
Intermedio 
Cockroach Variations 
The Happy Whistler 
Gollywood (Reprise) 
Unfinished Song I (Gidget Gein & Ego Plum) 
Unfinished Song II (Gidget Gein & Ego Plum) 
Unfinished Song III (Gidget Gein & Ego Plum) 
Unfinished Song IV (Gidget Gein & Ego Plum) 
Thank you Gidget Gein for your creativity and inspiration, 
Ego Plum